Welcome to Spring 2016!
The Office of Information Systems welcomes students, faculty, and staff back for the 2016 Spring Semester.  Remember that our Campus Support Center is dedicated to serving you and your technical needs.  We are your first stop for all technology related questions.  If we can't help you immediately, we will route your issue to our experts.  If necessary, we can guide you to outside sources to solve your problems.  Never hesitate to contact us at 479-968-0646, email campussupport@atu.edu, Facebook, or Twitter.

Campus Support Center Hours of Operation
Sunday – Thursday 24 hours
Friday & Saturday 7 a.m. – 11:59 p.m.
______________________________________________________________________________
Work Continues in the New Brown Building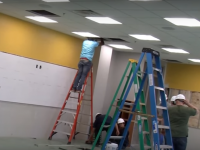 Network Services and Instructional Technology Services continues work in the new Brown building.
When completed it will include office space for Admissions, Registrar, Student Accounts, Financial Aid, Payroll, Budget, Human Resources, and Student Support Services.
There will also be 9 classrooms located throughout the building.  All classrooms will have the latest in audio visual technology which includes touchscreen control systems.  A collaborative classroom, located on the first floor, will offer the ability for students to bring their own computing device.  Each student will be able to share their device on TV's located at each table or with the entire class for better collaboration.
Additional construction photos can be found at the following link: https://goo.gl/I63lnY
---
Hull Network Upgrade
Beginning in early February, Network Services will start work to upgrade the current network infrastructure within the building, which will include new network switches and wireless access points.  The project is expected to be completed by the end of the spring semester.  Be looking for additional announcements regarding this project.
___________________________________________________________________________
ResNet Wireless Changes
On January 1, wireless networks on the Arkansas Tech Campus stopped supporting the outdated Wireless B standard.  This best practice recommendation for wireless networks helps to increase wireless performance for all users on the campus Wi-Fi.  Additional information regarding this change can be found at the flowing link: https://goo.gl/3tYubS
---
Employee Recognition
Nathan Evans, Network Services Manager, recently attended a two-day training for Unified Communications in Springfield, Missouri.  While there, he learned about the latest technologies available from the Cisco Unified Communications platforms.
---
OIS Administrative Systems Welcomes Patrick McConnell
Patrick recently joined the OIS-Admin Systems team as a Programmer-Analyst.  Patrick grew up in central Arkansas.  He graduated from Arkansas Tech University in 2004 with a Bachelor of Science in Information Systems.  After college, he worked at the Staffmark Corporate office in Little Rock as a PeopleSoft Business Analyst.  In 2006 he left Staffmark to work for a firm in Little Rock called Mainstream Technologies that specializes in custom IT and software development solutions.  He worked on a variety of software development projects, from education, to retail, to waste tracking solutions.  Patrick and his family moved to Russellville in 2014.  He and his wife have two daughters, age 4 and 1.