Alertus Desktop Notification is a client that needs to be installed on your campus computer.  It simply listens for an Emergency Message to be distributed and once a message is sent, your screen will be replaced with a message similar to this one :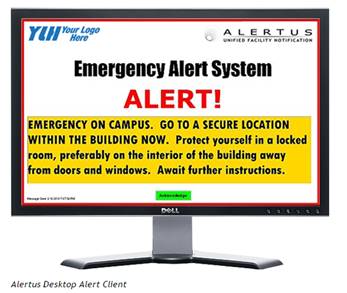 Please go to the University Mapped Drive t:\user_downloads\alertus installer and copy the appropriate folder (MAC or Windows) listed to your desktop.
Open the folder on your desktop, and run the installer program.
Accept the default questions.
Once installed you can delete the folder and contents from your desktop.
The program will automatically contact the server system and register your computer.
Even if you already have the Alertus installed, it is okay to run this newest version.
We are working on a Linux based client.
If you can't find the client or need additional assistance, please contact the Campus Support Center at campussupport@atu.edu or 479-968-0646.
​​​​​