Statement from OIS Director Ken Wester
The Office of Information Systems (OIS) has always strived to provide the best services possible with a GOOD, BETTER, BEST solution set. "Can't" is something we try to avoid unless it is out of our control. We strongly support the University Initiative for Service Excellence through creating a "collaborative culture of excellence by providing an exceptional experience for each individual". Please help us to continue to provide excellent service by letting us know when an issue exists or if you feel you could have been assisted in a more efficient, helpful or respectful way.  We would also like to know when we have done well; therefore, please always share your comments with us on our Feedback page at https://support.atu.edu/ics/support/feedback.asp . Last but not least, each ticket includes a satisfaction survey for that support item and it only takes a few seconds to help us complete that survey.
---
New Office Locations: W.O. Young Building Suite 104
OIS Director Ken Wester has moved his office from the Corley Building to the W.O. Young Building. Also in the W.O. Young Building are our Information Security Officer Chris Moss and Security Analyst Kim Newman. The Network Team is soon to return to the 3rd floor of the Ross Pendergraft Library (RPL) from the current location on El Paso Street.
---
Hull Network Upgrades
Network Services upgraded the network infrastructure in the Hull building this spring. The upgrade was completed at the end of April.  This upgrade included new switches and wireless access points.  These updates will provide more wireless coverage and faster connectivity to students, faculty, and staff.
---
TeachLivE
OIS is proud to be a part of the development of a TeachLivE project brought to our campus by the College of Education.  Software systems from Mursion use avatars to simulate classrooms for our education students to learn and gain experience in the teaching environment.  We are happy to support that project with equipment recommendations and set up in both Crabaugh and at the Center for Leadership and Learning (CLL) location near the Lake Point Conference Center.
---
iPad Initiative to Start in the Fall Semester
The Office of Information Systems has been working with the Center for Excellence in Teaching and Learning and a team of faculty to prepare for a one-to-one iPad pilot program. In May, a team of faculty were given iPad Airs and provided with two days of training on an assortment of apps as well as methodologies for using the iPads in the classroom. We have also received nearly 200 iPad Minis that will be distributed to one section of each of the faculty's courses in the fall semester.
OIS has partnered with a mobile device management solution called JAMF in order to easily manage these iPads. JAMF allows us to preconfigure almost every aspect of the iPad allowing us to customize the experience so it can be most effective for each class. For example, when students first log into the iPad, their email will be automatically configured for them in the Mail app. JAMF also provides an easy way to distribute apps and eBooks needed for the classroom, both paid and free.
Additionally, OIS is deploying additional wireless and classroom technology in support of the iPad initiative. Several rooms across the Russellville campus are being outfitted with Apple TVs in order to support AirPlay to the classroom system. AirPlay provides wireless streaming of audio and video from an iPad or other Apple devices. AirPlay also provides screen mirroring so everyone can see what the presenter is doing on the iPad.
The Office of Information Systems is looking forward to assisting with the distribution of these iPads in the fall semester.
---
Pharos Printing Upgrade
Enterprise Services is in the process of upgrading the Pharos print system to the latest version available. The new version has a number of improvements and new features available to end users. The first of which is a universal print queue which removes the decision factor when trying to select a printer. The universal print queue is available for any printer that has a Pharos release station, so users can print jobs to the universal queue and go to any release station and release their jobs. The universal queue automatically charges for color or black and white prints based on where the job is released.
Another feature now available is My Print Center. Users can go to http://print.atu.edu in a web browser, log in and see queued jobs, account balances, account history, and even release jobs to a printer. Enterprise Services is also testing a new feature called Mobile Print. With Mobile Print, users can upload documents to My Print Center directly without being mapped to the universal queue. Mobile Print also accepts jobs from mobile devices through the Pharos app and via email. This will be a great feature for those who bring their laptops or mobile devices to the library for a quick print. General availability of Mobile Print has not been determined yet, but we do not expect that it will be ready for the fall semester.
---
Emergency Preparedness
An emergency operations Campus Support Center has been established near the data center in Corley. This is in effort to maintain quality support during the event of a power outage in our primary location at RPL. This setting in Corley will allow our customer service representatives to connect to our new generator and continue to provide communication and service as long as is possible depending upon the emergency.
---
Eunice Brownlee Ferguson Innovative Classroom 134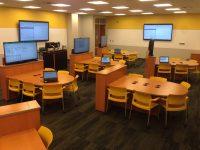 Eunice Brownlee Ferguson Innovative Classroom 134 in the Dr. Robert Charles Brown and Jill Lestage Brown Hall is a state of the art collaborative learning space. The technology in place is the first of this size at Arkansas Tech, with the capacity to seat 42 students. There are a variety of ways the instructor can use technology to help enhance student learning through collaboration, such as more than a half a dozen tables with seating for six students per table, student connectivity of personal devices and ability to share information with other students through their local displays. The instructor can "tie" tables together to create larger groups or share any student's content to any display in the classroom.
The Instructional Technology Services Team will host a training seminar in future for those interested in seeing the room in its fully functional state.
---
OIS Personnel Changes: New Employees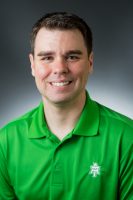 David Blackburn recently joined the OIS-Admin Systems team as a Programmer-Analyst. David, an Arkansas native from Cave City in the north central part of the state, graduated from Arkansas Tech University in 2007 with a Bachelor of Science in Computer Science and the University of Arkansas in 2011 with a PhD in Space and Planetary Sciences.  After finishing his PhD, he worked as a NASA postdoctoral research fellow for the Jet Propulsion Laboratory in Pasadena, California.  His research focus was on surface processes and the brightness of the moons of Saturn and small bodies in our solar system. In 2012, he began working for J.B. Hunt in northwest Arkansas as a programming specialist and technical lead for their transportation management system.  In David's career, he has worked on a wide variety of software development projects in education, space science and logistics.  David, his husband Richard, and their two cats moved to Russellville in March of this year.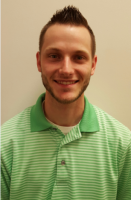 Ethan Hefley, the newest member of the OIS/Support Services team, will serve as a Tier II Customer Service Technician.  Ethan lives in Clarksville where he has served as an IT Technician/Coordinator for the Clarksville and Dover school districts for 7 years.  Holding an Associates Degree in Computer Information Systems from our Ozark campus, he has plans to continue his IT academic career on our main campus. He has been married for 3 years and has a 2-year-old daughter.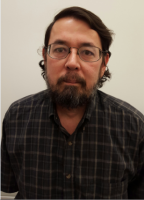 Charles Poynter, Jr. joined our team at the end of June.  His primary responsibility is to provide telephone support during our 3rd shift hours.  Charles has 10 years of experience administering servers and performing network, systems, and programming duties.  His background includes troubleshooting for Danville Public Schools Cisco equipment and SonicWall router.  While supplying this type of system maintenance Charles also became experienced with customer service.  Charles lives in Russellville with his wife and enjoys the peace of being in the wooded outdoors.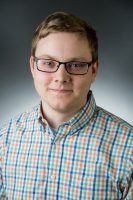 John Ruff recently joined the OIS-Administrative Systems department in March of this year. He graduated from Arkansas Tech University in 2014 with a Bachelor of Science in Information Technology. Entering the Graduate program in the fall semester of 2014, he has spent the last two years teaching introductory programming and networking labs as a Graduate Assistant in the Computer and Information Science department. He is on track to complete a Master of Science in Information Technology this August. John recently married his wife, who is also an Arkansas Tech University graduate with a Master of Arts in Multimedia Journalism.
---
OIS Personnel Changes: Exiting Employees
Kevin Vargo, a valued OIS employee of 4 years, has chosen to leave our Tech family and pursue a position with the military. Kevin will begin his new adventure with training in the field of IT Security. Much of Kevin's duties as a Computer Support Specialist were spent at Lake Point where he was responsible for maintaining all technical equipment there.
Nathan Evans most recently served as the Network Services Manager.  Nathan joined Arkansas Tech University in 2008 as a Network Technician.  He made many contributions during his nearly eight years at ATU.  Nathan left the OIS family at the end of April and is now a Professional Services Engineer at Infoblox.
Nathan Musser currently serves as a Network Support Analyst.  Nathan joined the university as a student worker in the fall semester of 2011 and began full time employment in March 2014.  Much of his time was in support of the residential network.  He has made many other contributions during his time at ATU.  Nathan will be leaving the university at the end of June to join the team at UAMS.