Statement from OIS Director Ken Wester
The Office of Information Systems (OIS) wants to thank you for all of your support of our goal to provide an atmosphere of collaboration and service excellence. As a support agency it is very important to us that we are effective in providing the services you need to help you be the best you can be. So please, continue letting us know where we can improve our current services and make suggestions on new services that we may look at for the upcoming new year. As a reminder, please go to our Feedback page to make your comment and suggestion.
---
OIS/Support Services Participated in the Involvement Fair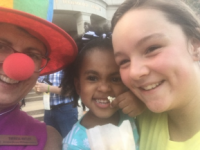 The Campus Support Center (CSC) began the 2016-2017 academic year by participating in the Involvement Fair. The purpose of the fair was to increase student awareness of the campus and community services. Not only did the CSC distribute flyers about OneTech, Blackboard, ATU email, and how to get additional technical help, it also provided knowledge about technologies every student would encounter. CSC staff dressed as clowns to entice students to spin the big wheel for prizes. The carnival theme made it so much fun for Tech students and the Support Services team alike!
---
The Student Employment Fair Proved Successful for the Office of Information Systems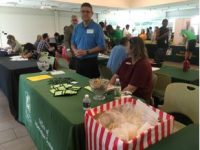 The Office of Information Systems was proud to participate in the Student Employment Fair. Twenty-five student worker applications were received during the Career Services' Employment Fair. Students were screened for their educational background and goals, interest in technology, and desire to be of service to others. We were glad that 2 students were selected for our 2 employment vacancies within our OIS teams.
---
Technology Presentations for Entering International and Graduate Students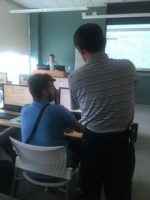 Each semester, we provide incoming international and graduate students with an informational presentation covering a wide variety of topics. Our goal is to acclimate them to the primary websites used on campus, including OneTech, Blackboard, the Account Management System, ATU email, Office 365, etc. We feel that if these students can become familiar with our websites before school begins, they will be better prepared to start their classes. We also provide them with several methods of communication back to us, so that we can help with any problems they might have while studying at ATU.
If your office and/or department needs us to provide you with a presentation for any specific technology issues, please contact Campus Support and we would be glad to assist you.
---
Proactive Campus Support Service Initiative
In an effort to enhance our customer support experience for our faculty and staff, Campus Support telephone personnel are not only assisting with issues over the phone and email, but have begun to leave the office to attend to issues in person. This will allow our customer service representatives to cross train in other areas of technology support. We look forward to working with you!
---
Information Security Awareness
Personal and business security is more than locks and alarms. It is awareness of your surroundings everywhere you are, including online. Making yourself aware requires continuous evaluation of your environment. The Office of Information Systems is not advocating paranoia but just would like for you to be observant of what is around you, who you are friending and who this email is really from: Stop (take a second), Think (review the circumstances), and then Connect (taking informed action). Please take a moment and visit the STOP.THINK.CONNECT.™ website for more information security tips and advice.
---
Recent OIS Projects
Installing Leardol Medical equipment in the Nursing Department
Assisting office moves in Doc Bryan
Collaborating with the new gaming program
---
OIS Personnel Changes
New
Jason Collins is our Network Services Technician. Jason is a 2011 graduate of Arkansas Tech with a Bachelor's Degree in Information Technology. Prior to working at ATU, he was employed by Acxiom and Johnson Regional Medical Center. He and his wife, Christy, have three children: John, 16; Eva,7; and James,6. In his free time, Jason enjoys spending time with his family, as well as studying computer networking/security, phycology, & microelectronics.
Exiting
Jeremy Gregory most recently served as the Instructional Technology Services Manager. Jeremy joined Arkansas Tech University in 2012 as a Computer Support Specialist. He played an important role in the design and installation of the classroom technology in the new Brown building. He left at the end of October of 2016 to pursue other opportunities. We wish Jeremy continued success in his new position.
Nick Sheetrum joined the OIS/Support Services Tier II team in November of 2014. He began as a first level Technical Support Representative (TSR) and soon acquired the desktop skills necessary to earn a higher level TSR position. Nick continued to prove himself excellent at troubleshooting and solving hardware/software issues confronting our staff, faculty, and students. His abilities enabled him to be considered and accept an opportunity to further his career. We appreciate Nick's hard work for the University and encourage him in all his future endeavors..