Like Us On Facebook
Follow Us On Twitter
Holiday Closure
The Campus Support Center will be closed on Monday, September 7th in observance of the Labor Day holiday.We will reopen at 12 a.m. on Tuesday, September 8th.
New Look for Blackboard

You may have noticed that when you go to the Blackboard Learn (BbLearn) system, the login page has a new look.  Tech's campus is getting bigger and better every year and we hope you enjoy this aerial view.
We have more improvements planned for Spring 2016.  We intend on implementing Blackboard's Content Management module, which is a simple yet robust file management system for personal, course, and institutional document management, and the Community Engagement module that can provide several new opportunities to keep active learners engaged in the education experience.   Also, we will be releasing the newest version of Blackboard's web-conferencing platform, Collaborate Ultra.  Designed specifically for education, with its comprehensive tools and capabilities, you can engage in the virtual classroom as if it were face-to-face.  You're going to love this!
Having trouble with Blackboard Learn?  Be sure to check out our Knowledge Base articles when you login to the Campus Support Portal at https://support.atu.edu
---

Power Generation Project
Over the summer, crews have been working to install power generators for the Corley Data Center and the McEver Hall Data Center. Once the project has been completed, these generators will provide power to our server systems and core network during power outages. A test to switch power to the generator installed in Corley on Thursday, August 27th, was successful!  This is a major step toward significantly improving the ability to sustain services during power outages.
---

New IBM Hardware Adds Resources While Reducing Energy Consumption
The Office of Information systems has been busy implementing new hardware for the Banner environment.  The new servers, IBM POWER 8 servers, are the latest offering from IBM and will replace the POWER 7 hardware that was installed in 2010.  The new servers will provide greater performance and available resources than the POWER 7 servers while occupying half the space.  The storage for the Banner environment was migrated from IBM's XIV storage system to IBM's Storwize V7000 storage system.  The Storwize V7000 offers additional features such as storage compression and encryption of the data at rest.  In all, the new hardware will provide greater flexibility and performance moving forward as well as reducing energy consumption in the Corley Data Center.
---

Unified Communications
The Office of Information Systems has been tasked with improving telephone communications on campus by building out a sustainable telephony infrastructure that will support the campus for years to come. The university has chosen the Cisco Unified Communications (UC) platform as its standard for communications moving forward. For more information please see the following webpage: https://ois.atu.edu/unified-communications/
---

Summer Wireless Network Updates
The Network Services team has been busy updating network switches and installing wireless access points into residence halls around campus. The new wireless will provide wireless coverage to all rooms on all floors. Residence Halls with updated access include the following: Brown, Critz, Caraway, Hughes, M-Street, Nutt, Tucker Hall, and University Commons (A, B, C, D, E, F, G, and club house). South Hall is also getting a wireless update.  It should be online by September 14th.  Other residence halls are scheduled for next summer.
In addition to the residence hall upgrades, several academic buildings were also updated. Academic buildings with updated access include the following: Corley, Crabaugh, McEver, Morton Hall, Ross Pendergraft Library and Technology Center, and Williamson
---

Employee Recognition
Jeremy Gregory, Instructional Technology Services Manager, attended the annual InfoComm international conference in Orlando, Florida. While there, he successfully obtained his Certified Technology Specialist (CTS) certification.  Gaining this certification adds to the professional relevance of our Audio and Visual knowledge base for Instructional Technology Services.
---

Rothwell Student Labs Get New Computers
The Support Services team has installed 111 new computers and 25 new thin clients in the Rothwell Building student labs.
---
OIS/Support Services staff members, Paul Gordon, Theresa Motley, and Angela Linden, having fun manning the OIS table at the Involvement Fair, and student worker, Paige Sparkman, blowing up our beach ball prizes in preparation for the Involvement Fair.
---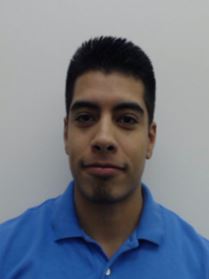 Employee Spotlight—Meet Jose Gutierrez
Jose Gutierrez, Technical Support Representative, is one of the newest additions to our OIS/Support Services staff.  He joined our team in October of 2014 and has already proved himself to be an excellent choice for this position.  Say hello if he visits you on behalf of your next services ticket.  You will find him friendly and eager to assist you with your technical problems.
Jose was born in Texas but completed K-12 in Springdale, Arkansas graduating from Har-Ber High School in 2009.  Both of Jose's parents are from Mexico so he has been fluent in both Spanish and English all his life. His interest in Information Technology brought him to Arkansas Tech University.  Once he became aware that Tech offered an excellent program in IT and that the classroom head count is smaller compared to those of other colleges he knew Tech was the right choice for him.  Jose has been a student at Tech since 2012 and received his Associates Degree in IT last spring.  His plans are to continue his IT education right here on our campus.
Experience in the IT field also makes Jose an excellent asset.  He worked at Best Buy in Fayetteville during high school and was excited when he earned a position on their Geek Squad.  Jose then joined the technical team at Staples in Russellville while he attended Tech.  He worked there for 2 ½ years before he joined our TSR team. After working hours you might catch Jose working out at a local gym or outside playing Ultimate Frisbee.
We asked Jose what he liked the most about working for the OIS team at Tech and he explained that it is "definitely the family atmosphere."  He likes how co-workers all pitch in to help each other provide the best service possible for our customers.  We hope that Jose remains a member of our Tech family for many years.