Statement from OIS Director Ken Wester
Summer 2017 was a busy time for the Office of Information Systems (OIS) to undertake projects all across campus which included Admin, Doc Bryan, Residence Halls, Rothwell, Witherspoon and others. Computer upgrades, software upgrades, new applications and the ATUMobile App are being replaced (stay tuned for October/November of 2017 release).

The start of the 2017-2018 academic year brings phishing and fraud attempts directed at Arkansas Tech University. Due to wild fires, hurricanes and other natural disasters, we strongly suggest you to stay alert by reviewing not only your emails, but your text messages and phone calls as well. Schemers spare no effort to try preying on your feelings to help others. We recommend that you give those in need a helping hand "only" through known, reliable, and legitimate sources. To help you better distinguish between unknown and known sources, we have implemented a new email policy. Your emails are now prefaced by EXTERNAL SENDER for emails not coming directly from our known sources. This preface identifier may help you identify whether an email is normal or abnormal. Therefore, please double check.
We sincerely welcome our #ATU21 (ATU 2021 graduates) and returning students and faculty, and hope everyone has a great rest of 2017!
---
Online Admission Application Process Enhancement
When presented with the challenge of improving the university's online admission application process, the OIS Administrative Systems Division team was up to the challenge. Through a close collaboration with the Admissions Office, the flow of the online application process was effectively and efficiently improved to seamlessly route applicants to the correct applications. The old login process was removed to no longer force applicants to create and remember usernames and passwords. The application was given a fresh and modern look and feel, and custom communication was added providing submission confirmation and feedback. The team would like to express thanks to MARCOMM for the contribution of graphics for the project. The result of this total TEAM effort is a much improved, mobile friendly application for admission process of which the university can be proud.
---
Student Tracking Analytics in Banner Self-Service (Coming soon)
Working with Dr. Jason Warnick from the Office of Student Success, Dr. David Blackburn has built a Sankey diagram to track student flow by major and term within Banner Self-Service. This diagram will chart the flow of students into and out of majors as they make their way toward graduation, providing insight to departments regarding roadblocks and ideal pathways for students. The project was well-received when presented to the Executive Council and will be shared with Dean's Council and Academic Council soon before being provided to all faculty in Banner Self-Service.
---
Student Technology Improvements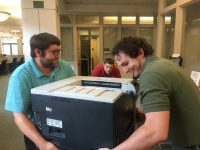 Support Services has helped with student technology improvements prior to the beginning of the fall semester of 2017 by deploying several new pieces of equipment. Pictured here from left to right are Tim Caldwell, Braxton Lay, and Hayden Poff installing one of 11 new printers in the Ross Pendergraft Library. Other items of support include:
The installation of 50 computers in a newly created computer lab in Rothwell 221.
The replacement of over 100 used lab computers with new ones.
The enhancement of many used computers with updated hard drives.
The update of all lab images.
The assistance with laptop and iPad student initiatives.
The evaluation of approximately 50 software packages for both administrative and educational purposes.
---
3D Graphics on Virtual Desktops
Enterprise Services is in the process of testing enhanced 3D graphics cards for virtual desktop systems. These new graphics cards drastically improve the video performance on virtual desktop systems and allow for the use of graphics intensive applications like Solidworks, AutoCAD, and Adobe Photoshop from any device and anywhere. OIS is currently testing these devices with engineering applications, and we are looking to add additional capabilities for the spring semester of 2018. Long term, we hope to see all virtual desktops benefiting from this technology as well as making these systems available as primary systems for faculty and staff.
---
Network Services
The Network Services Division of the OIS completed several projects over the summer of 2017.
Administration Building: It involved the replacement of aging network equipment. As part of this project, Network Services also upgraded the wireless on the 1st floor of the building with plans to update the basement area's wireless as needed. All offices were also upgraded to the university's Voice over IP (or "VoIP") phone system as part of our university-wide project to steadily move off of the older analog phone system.
Doc Bryan Renovation (north side): It included a new networking closet as part of construction which has given Network Services the opportunity to replace older networking equipment in that half of the building with new, more centralized, networking equipment. This equipment will support the new multi-gigabit access points in the lecture hall once renovations are complete. The new closet and equipment also allowed Network Services to provide services to the new Health and Wellness suite, which includes network connectivity, increased wireless coverage, and VoIP phones. Plans are in place to continue with Doc Bryan's network upgrades to take care of the south side of the building.
New food services location on El Paso and video streaming at Buerkle Field. This project is still ongoing, but initial connectivity has been provided for the food truck as well as for the video streaming trailer on Buerkle Field. So far, we have received very positive feedback for both operations and will continue working on this project to finalize the equipment installs which should also include wireless at the food services area.
Various other projects accomplished this summer include:
The replacement of equipment damaged by storms
Several smaller VoIP phone deployments
The setup of VoIP call queues with recorded greetings for several student-facing departments on campus
Several new fiber installations on campus to provide new services and to replace damaged fiber
The redesign of the ResNet core connectivity
Network Services is also aware of issues students are facing with online game connectivity in the Residence Halls. Network Services has been working closely with our vendors ever since this problem was first identified to determine the cause and to see if there were any configuration changes that could be made to resolve the issues. A potential solution is being conducted right now, and we hope to have more positive news soon.
---
Technology Learning Resources (TLR)
Recently appointed as Director of TLR, Mr. Alex Manly manages the following three sections:
Technology Center (TC): Due to a relocation of some OIS staff offices, the TC welcomes a new administrator, Tim Land. Tim has moved from the Campus Support Center to take over TC responsibilities, as well as act as a Tier II support admin for the Blackboard Learn course management system. We are excited to have Tim's knowledge and experience as a part of the team.
Instructional Technology Services (ITS): The ITS is proud to announce its newest member of its team, Jeff Mumert. Jeff started with the Campus Support Center in 2011 and was a valuable asset for them. We are happy that he has decided to bring his talents and dedication to the ITS team, where he was welcomed with open arms. ITS had a busy summer with several classroom upgrades, and other projects still in the works.

McEver 162, Witherspoon 111, 127 and 315, and Rothwell 321B have all been updated with new instructional technology.
A conference room in the Admin Building is having its conference technology updated.
As part of the Doc Bryan renovation, the auditorium is having a new 8,000 lumen laser projector and a concert-quality surround sound system installed. Movie Night will never have looked or sounded as good as it will now.
Doc Bryan 133 is having technology installed to make this new meeting room as versatile as possible. It will be set up for small to medium sized audiences for telephone conferencing, web conferencing, training seminars, etc.

Course Management Systems (CMS): We are happy to announce some new features to the Blackboard Learn course management system that came with the recent updated release.  Please see the New Blackboard Learn Course Management Systems (CMS) Features article for more information.
---
Background Checks for Student Employees
Beginning September 05, 2017 Pre-Employment Screening Procedures have been amended to include background checks for student employees, College Work Study and Non-Work Study, who need access to information stored in secured data systems. These systems include but are not limited to: AppXtender, Argos, Banner, BossCars, Cornerstone, Degree Works, Employment Processing, iDrive, Intellecheck, StarRez, and TracDat. ONLY student employees who require access to one of the listed systems need a background check. Supervisors should follow normal procedures for requesting the background check. The complete amended document may be found at:
https://www.atu.edu/hr/docs/Pre-Employment%20Screening%20Procedures%20as%20of%209-1-17.pdf
---
OIS Information Security News on Equifax Breach
We are sure many of you have been hearing about the Equifax data breech. This is a fluid situation and the information is changing daily. Here are a few links where information is being updated, as well as some sights with information on what you can do to protect your credit information.
Equifax: https://www.equifaxsecurity2017.com/
Credit Monitoring: http://krebsonsecurity.com/2014/03/are-credit-monitoring-services-worth-it/
Credit Security Freeze: https://krebsonsecurity.com/2015/06/how-i-learned-to-stop-worrying-and-embrace-the-security-freeze/
Identity Theft: https://www.identitytheft.gov/Info-Lost-or-Stolen
---
Technology Presentation for Fall 2017 New Graduate Students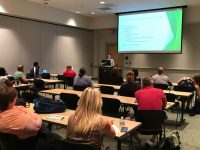 Each semester, we provide incoming international and graduate students with an informational presentation covering a wide variety of technology topics. Our goal is to acclimate them to the primary websites used on campus, including OneTech, Blackboard, the Account Management System, ATU email, Office 365, etc. We feel that if these students can become familiar with our websites before school begins, they will be better prepared to start their classes. We also provide them with several methods of communication back to us so that we can help with any problems they might have while studying at ATU.
If your office and/or department needs us to provide you with a presentation for any specific technology issues, please contact Campus Support, and we would be glad to assist you.
---
Green and Gold Cupboard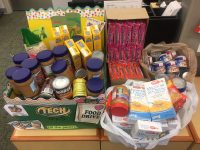 We are proud to show our support for the Green and Gold Cupboard Food Drive to help fight hunger in the Arkansas Tech University community.  This is something our personnel feel strongly about, and it shows through our exciting win of the 2nd place in the competition. Yea OIS!
---
Michael Cain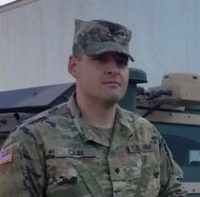 OIS would like to recognize Michael Cain, Network Services Student Technician, for his service in the Army National Guard. Michael was recently activated and deployed to Texas to help with relief efforts after hurricane Harvey terribly made landfall over there. We appreciate his sacrifice and service.
---
Chris Moss and Joe Keating
We would like to congratulate Chris Moss, Security Officer of the OIS, and Joe Keating, Administrator of Support Services Tier II, on successfully completing the Certified Cyber Investigative Expert (CCIE) courses from McAfee Institute on May 25, 2017.
---
OIS Personnel Changes
New
Keesha Kneeland joined the OIS as our Campus Support Representative on August 7, 2017.  Keesha graduated from Phillips Community College of the University of Arkansas in May of 1997, where she received an Associate of Applied Science degree in Office Technology. She is currently studying for her Bachelor of Business degree at the University of Phoenix. Prior to working here, Keesha was a Multimedia Technician for Phillips Community College of the University of Arkansas.  She lives in Russellville with her mom and son, Chris a senior at ATU majoring in the Health and Physical Education, Wellness and Fitness program.
Exiting
Brice Gunter, former Enterprise Services Technician, has exited the ranks of OIS to pursue a new career at Arkansas Nuclear One. Brice began his time in OIS as a student worker in 2006. He later managed the student network and played an integral part in the restructure of both the academic and student networks as a network technician. He joined the Enterprise Services team in 2015 and played an active role in managing the university's data center and server resources. We wish Brice the best of luck and continued success in his career opportunities.
 
---
OIS Student Workers
Left Photo: Gavin Dundee (left 1) from Greenwood, a Computer Engineering major, works in the Campus Support Center. Brayden Butler (left 2) from Hot Springs, a Mechanical Engineering major, works in Tier II of Support Services. Christopher Reeves (center) from Mabelvale, a Computer Science major, works in Instructional Technology Services. Brooke Payne (right 2) from Atkins, a Bio-medical major, works in the Campus Support Center. Kaylen Martin (right 1) from Atkins, an Elementary Education major, works in the Campus Support Center.

Right Photo: Kyle Ingold (left 1) from Dover, a Mechanical Engineering major, works in the Campus Support Center and also began working some in Tier II as a student worker when the fall semester of 2017 started. Asia Pettit (left 2) from Pueblo, Colorado, a Physical Health and Wellness major, works in the Campus Support Center. Shelby Davis (center) from Atkins, a Nursing major, works in the Campus Support Center. William Escobar (right 2) from Rogers, an Information Systems major, works in the Campus Support Center. Cole Ennis (right 1) from Atkins, a Computer Science major, works in the Campus Support Center and also began working some in Tier II as a student worker when the fall semester of 2017 started.

Not Pictured: Davis Vang from Russellville, an Information Technology major, works in Instructional Technology Services.