The state of Arkansas information security office sent out a notification this morning stating that several agencies had received phishing emails with a malware attachment.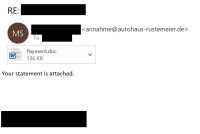 When opened, the attachment triggers the installation of the emotet virus. After installation, the emotet virus can install additional malware called trickbot that spreads, via Windows file sharing, exploits to other machines and is capable of exfiltration of credentials (user ID and Password) and other information.
If you have any questions about an email you receive please contact information security office at security@atu.edu or call the help desk 986-0646 and someone will assist you.