There will be a planned university-wide network maintenance on Saturday, July 4th, starting at 5:30 pm and lasting until 7:00 pm. During this time, network connectivity to university networked services and the Internet may be intermittent. Voice services with the Cisco Unified Communication VoIP phones should not be affected. This network maintenance will allow Network Services to upgrade the university firewall to address an urgent security flaw. Actual losses of connectivity are expected to be very brief but the entire window is reserved.
There will also be an upgrade to the GlobalProtect VPN client. After the start of the maintenance window, a new connection to the VPN will initiate a prompt on your desktop or laptop Globalprotect VPN client to download and install the update. The download notification will indicate there is a new version available and will ask if you'd like to update like the following screenshot: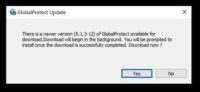 Clicking "Yes" will initiate the download. Once downloaded, a new window will appear asking if you're ready to install the update: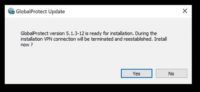 Clicking "Yes" will proceed with the silent installation. This installation may take a minute or two to complete. Once the installation is complete, the VPN client will likely be back to its disconnected state and may pop up in the bottom right hand corner of the screen to indicate it is ready to be signed in to again.