Today, WebEx released their September update, which includes a simplified user interface. The new interface includes clearly labeled controls that give you quick access to control your audio, video, content sharing, chat, and view participants. A refreshed preview window also includes these updated controls.
You can Explore the 40.9 In-Meeting Experience on the WebEx website.
You should begin seeing this new interface with any future meetings, and you can update the WebEd desktop application by clicking on the blue Update button in the application.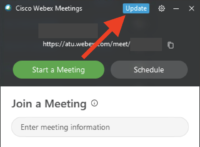 Additional features, such as video breakout rooms and a new cohost role, were scheduled to be included in this upgrade; however, WebEx has delayed these features. These features are currently expected to be available on September 15.
---