To continue securing applications and data with multifactor authentication, the Office of Information Systems will be enabling Duo MFA for all virtual desktop access from off-campus starting Friday, August 13.
When logging into vDesktops or StuDesktops, you will see an additional prompt asking for that second authentication factor. The prompt allows you to choose how to confirm your login. If you'd like to receive a push notification in the Duo Mobile app, you can type "1" into the prompt and click "Login" to initiate the push notification. Alternatively, you can choose option 2 to receive an SMS message with a passcode, enter that passcode into the prompt, or enter a passcode from the Duo Mobile app or hardware token.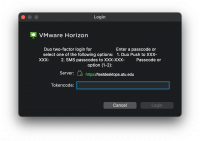 After you have completed the two-factor login, you'll then be able to connect to a virtual desktop.
If you have any questions about Duo MFA, please visit our solution articles on the subject or contact our Campus Support Center at campussupport@atu.edu or 479.968.0646.